Specializing in Carbide Saw Blade Sharpening for Over 40 Years.
Get Free Shipping when
You Sharpen 5 Blades At Once.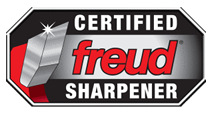 "The sharpened blades were excellent. Also, very important, I feel that Family Hardware went out of their way to make the whole process very simple and convenient." ~ Ben – AZ
Get Sharp Blades in 4 Simple Steps

1 – Request a

Prepaid Shipping Label
We send you the forms to send us your blades.
* When sending at least 5 blades.

2 – Ship us

Your Blades
Pack the sunscreen for em!

3 – We Sharpen

Your Blades
Using our automated CNC machinery, purchase blades while we have your blades in the shop and the sharpening is free!.

4 – We Ship back,

FREE
Within a couple days of receiving your blades, they are on their way back home!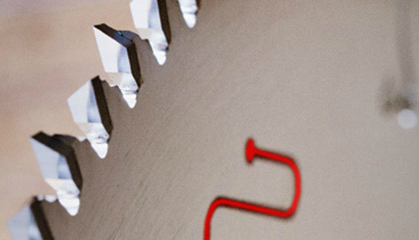 Sharpening Carbide Saw Blades for Over 40 Years
Family Hardware has specialized in the sharpening of carbide tipped saw blades for over 40 years. Every day hundreds of customers around the country rely on us to keep their shops running at peak efficiency.
Using methods handed down 3 generations, we use a mix of old skill knowledge, with cutting edge machinery to get the job done right. We are constantly investing in new technology and upgrading our existing equipment to deliver the superior quality that will keep your blades running longer and cutting better.
1 - Receiving YourBlades
Your blades are received in and immediately we begin the process of bringing them back to life. It all starts with a caustic soda bath which loosens and removes debris without damaging the blade.
2 - Polishing & Inspecting
From there it's off to the polisher where we remove any dirt, rust or other material from the face of the blade. Your blade is then hand inspected for missing/chipped teeth, bent plate, missing posts etc.
3 - Protective Coating &Returning Your Blades
Once ready, your blade goes onto one of our 5 automated CNC grinders. Once done, all of our blades go through our 4 point inspection process before getting their protective coating & sent back to you.
Our 4 Point Inspection Process

Tooth Runout – .004" tolerance

Plate Concentricity – .003" tolerance

Plate Runout – .005" tolerance

Visual Inspection – under Microscope for micro chipping.
"The quality of the sharpening was great, they almost cut better than when new. I really like the almost like sanded edge ot the board after running thru the blade. We will definitely be using your services in the future" ~Bruce – NY
"Want to thank you guys for such excellent service, from the timely turn around, free shipping, reasonable pricing and the great quality of cuts coming from the blades. I will definitely use your service again and pass your information along to anyone needing some blade sharpening." ~Mike Z – NV
Frequently Asked Questions
How does free shipping work?
Very simple! If you send in 5 blades or more, we will give you free shipping both ways! Request a prepaid UPS Shipping label and ship in your blades to us, and we will send them back for free.
What is the best way to send my blades in?
Want to ship blades yourself? The best way to send us your blades we have found is using Priority Flat Rate boxes. 12″ Blades will easily fit into a Priority Mail Medium Flat Rate Box-2. If you need slightly bigger, go with the Large Flat Rate box. The boxes are free at any post office, and you they cost $12.40 and $17.05 respectively and you can ship up to 70lbs! Do not forget to back cardboard between your blades to avoid damaging any teeth in shipment. And remember, if you send in 5 or more blades, we will credit you $15.00 for sending the blades in and ship them back for free!
Don't forget to download our Order Form before sending in blades.
What equipment do you use to sharpen our blades?
Here are a couple of the machines that go into keeping your blades as sharp as can be.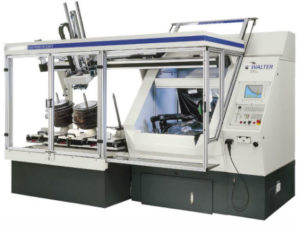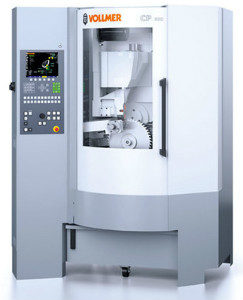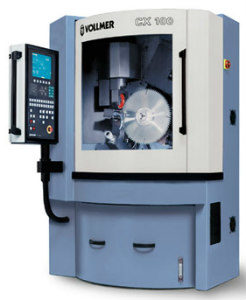 I don't want to request a label, what do I do?
Not a problem, if you wish to send in your blades on your own. Simply download our form and send them in! If you send 5 blades or more we will credit you back for the shipping to send them into us.
Can I request a prepaid label when I ship less than 5 blades?
Yes! You absolutely can. We will send you our prepaid label. We charge a flat rate of $15 each way. So the round trip cost would be $30.
Can I combine my shipment with someone else?
Absolutely! If you only have a couple blades to send, and have a friend in the same boat, by all means send them in same box. As long as you get 5 blades, you will qualify for the free shipping. If you wish to be charged separately, please remember to send in two separate order forms.
- 1 -
After completing the form, we will send you our sharpening order form and a UPS prepaid label, if you wish to download our form directly and send in blades yourself, you may do so by clicking here.
- 2 -
Once we receive your blades, we will check them in and begin our sharpening process. Depending on our workload, expect it to take 3 -4 business days for us to process, although most of the time we process in 1 – 2 business days.
- 3 -
We will use the payment form you designated on the order form to charge for the order. If you would like us to call for a credit card, or call us before to get a total and send a check with your blades, you may do so as well.
- 4 -
Lastly we will ship your blades back to you for you to enjoy!
© 2017 Family Hardware – All Rights Reserved.